NOTE: When the video is over (it's only 40 seconds long), click on the X to the upper right of the video. That will remove all those youtube ads and allow you to view the photos below in a larger format. I know, yay!
I've had a dressing room for a long time. When my love of fashion merged with my love of home decor, the dressing room, which I also call my boudoir was born. It's the room I spend most of my non-work time in; bubbly time, puppy time, binging on dumb shows time, and yes, I actually get dressed in this room. When my kids come home to visit, we always sit and catch up in the boudoir. My husband hangs out with me in there too, but I've had to remind him several times that he can't watch sports on his iphone or ipad because there's no sports in the boudoir.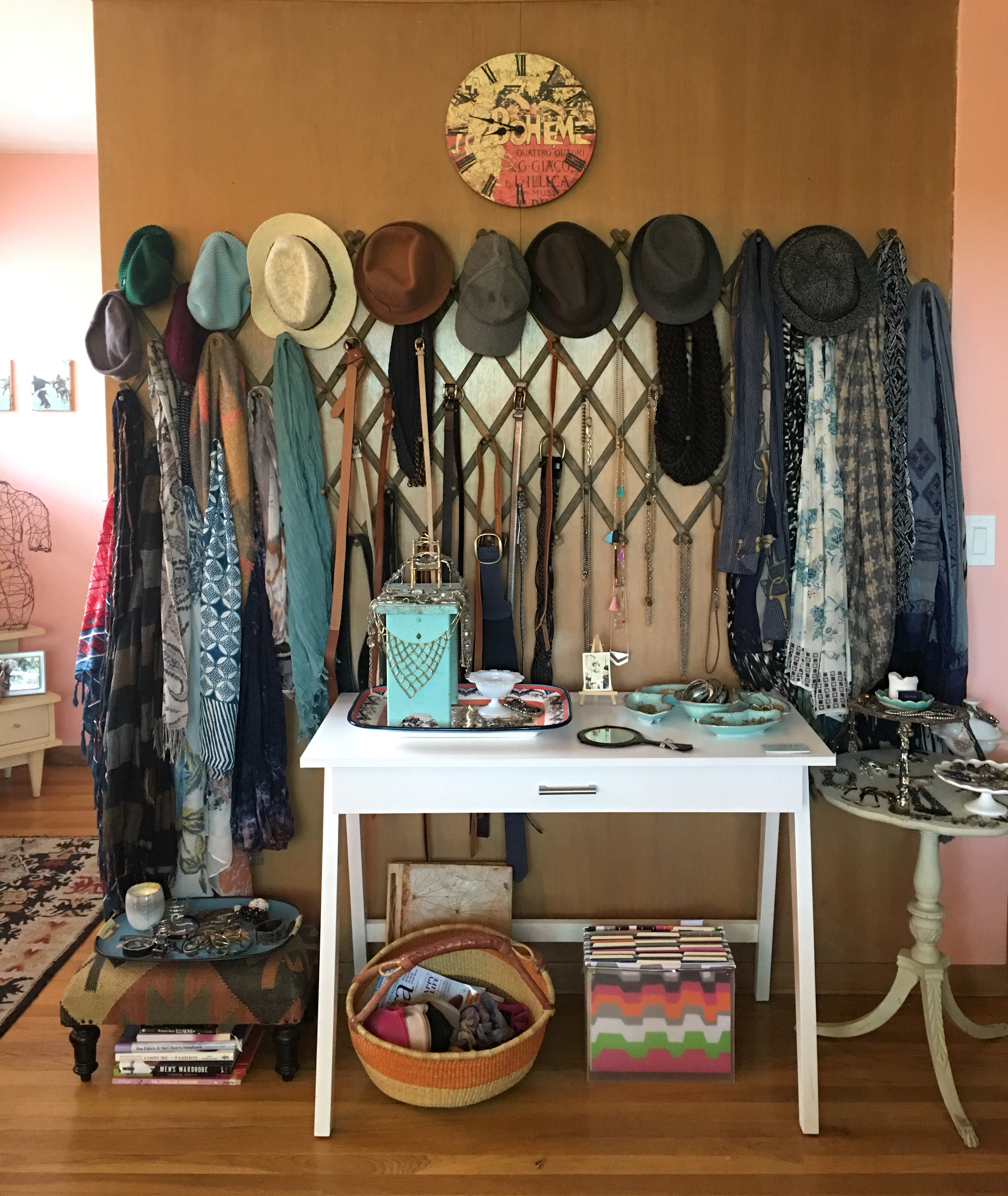 Notice the file box under the table? This is technically my "office" so don't be afraid to make your dressing room a mixed-use space. Just make sure all the elements go together in a cohesive so way something like a box of files doesn't look out of place. Poppin.com has some really fun office supplies. The extra large wooden accordion wall rack was a serious find at a flea market in the Dalles, Oregon.
It's a real luxury if you can dedicate an entire room to your wardrobe, but a partial room works too. Room dividers or curtains hung from the ceiling or walls are easy ways to section off your own personal space. No expensive closet systems need to be purchased unless you desire that look. My boudoir consists of items I've mostly found at vintage shops where I live in Portland, Oregon. This dressing room is all me and yours can and should be all you. It's THE room to not hold back and freely express yourself. Clearly, I like a peachy-pink!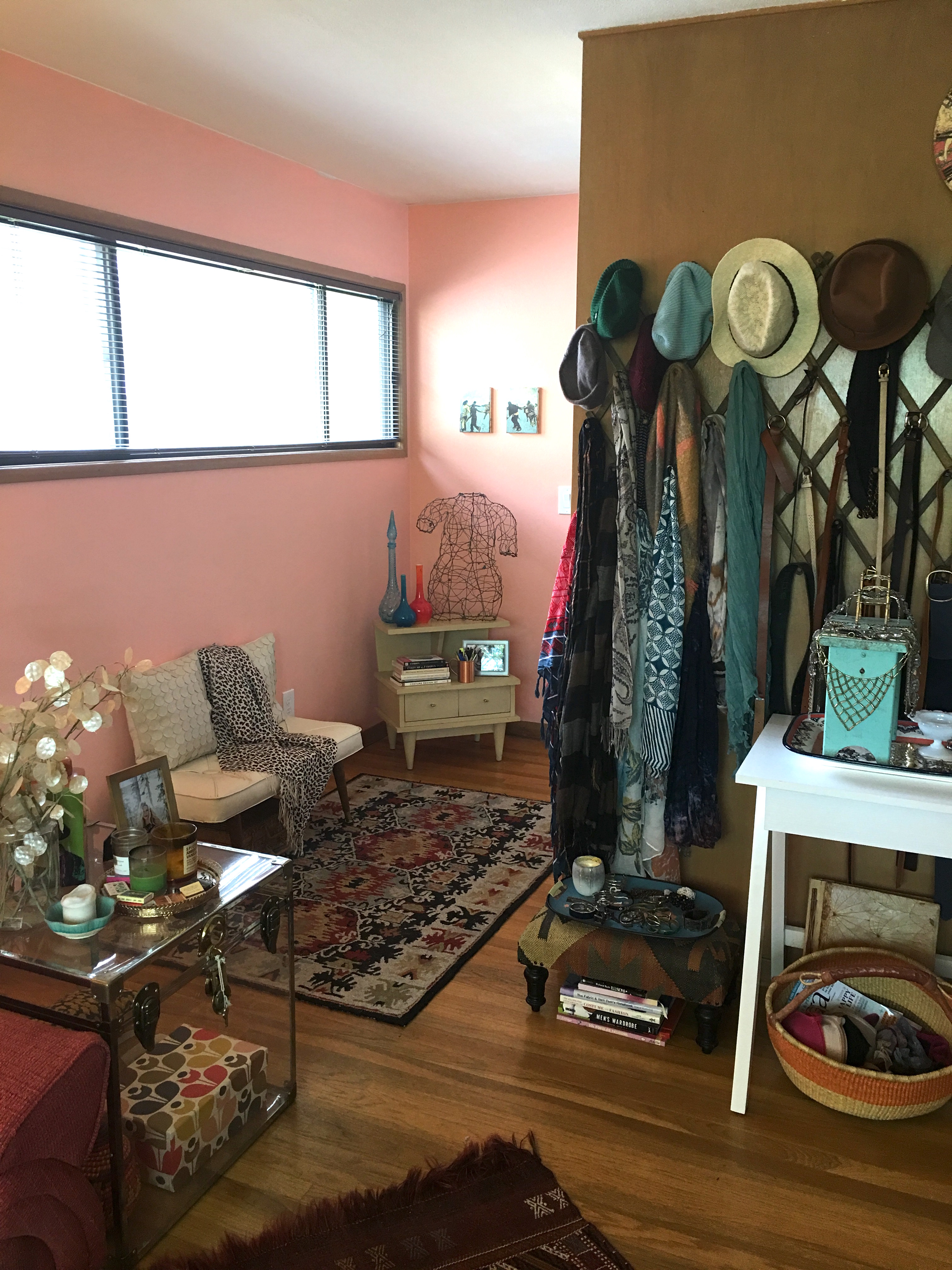 The little bench isn't just cute. It's where I put on my shoes.

I paid $19 for the bench at a place called House of Vintage in Portland, Oregon.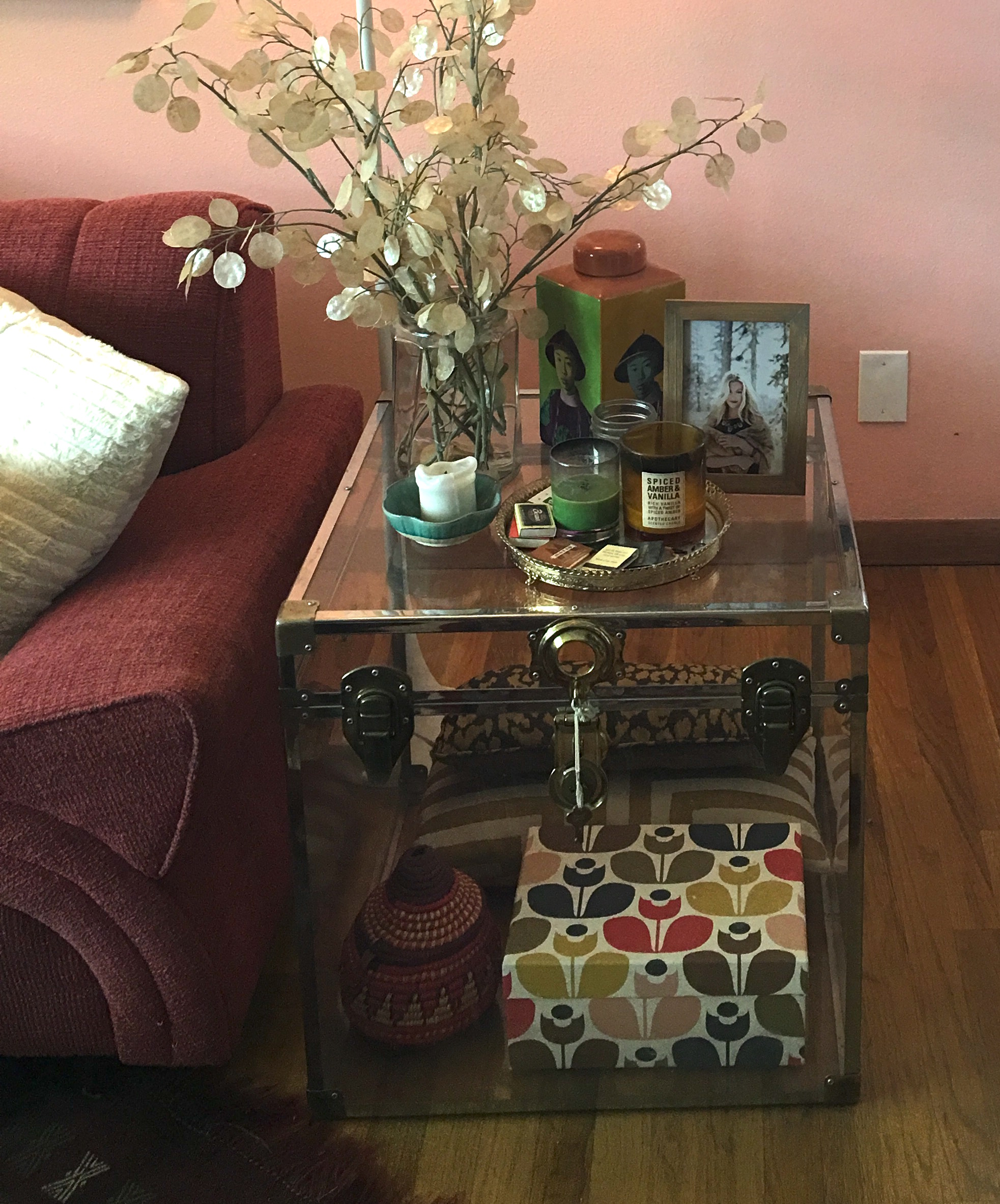 I found this acrylic trunk at Ten22home in Seattle in the Fremont neighborhood. It was $250 and worth every penny. No that's not a glamour shot of myself in my boudoir. That would be so tacky. That's my beautiful daughter in her engagement photo.
This ceramic tray was just a target special. Target is THE place for cool trays. I added a cute seafoam blue step stool to add height, color, and drama.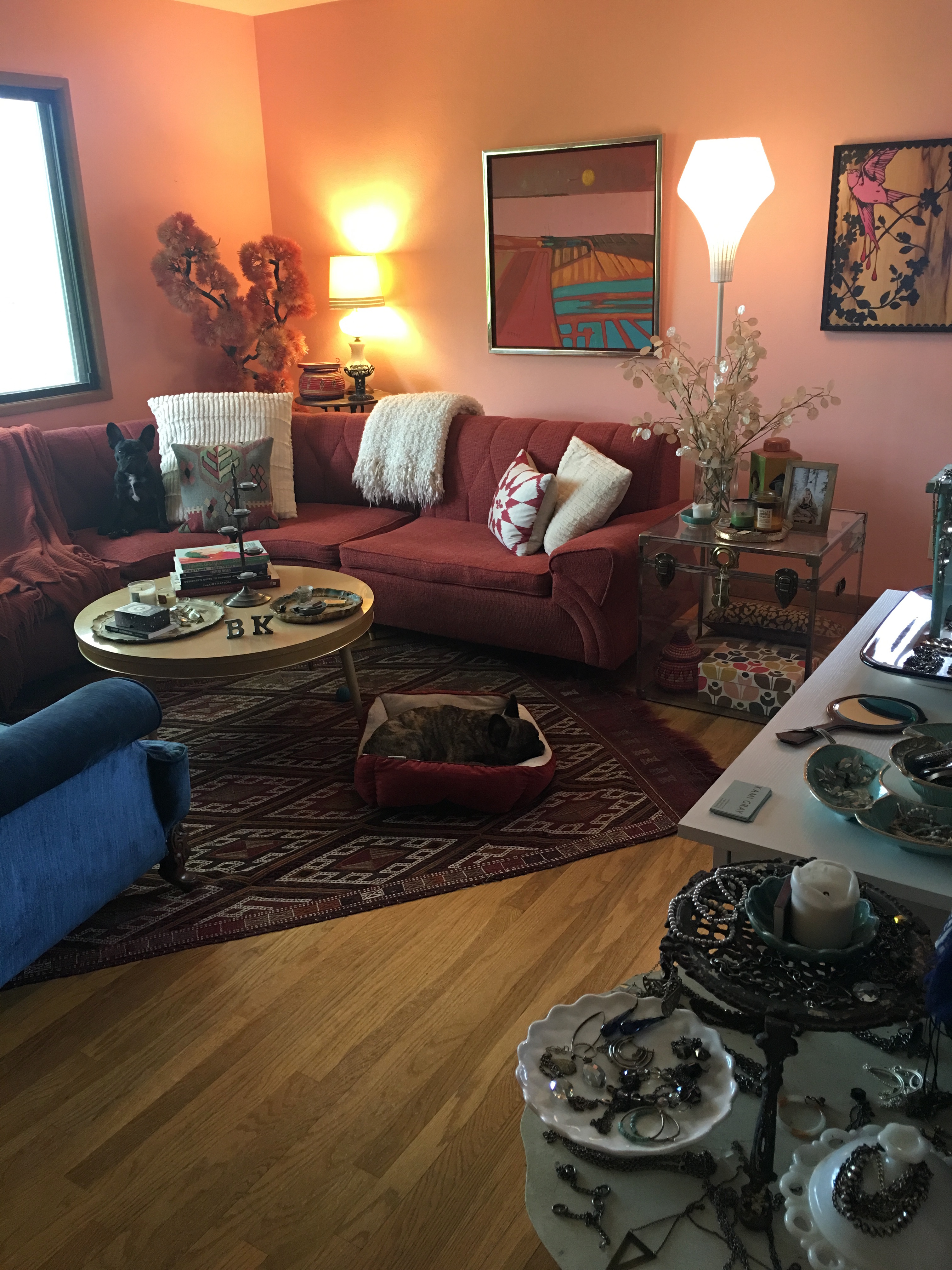 You need a place to sit. This curved sectional is from the late 50s. I found it at a vintage shop in Portland that has sadly closed for business. It wasn't cheap. I paid $1500, but I've had it for over ten years and it makes me immeasurably happy. The internet is full is online vintage furniture sites. One of my faves is chairish.com. If you live in Portland or you're here visiting, we have amazing, inexpensive vintage furniture and no sales tax!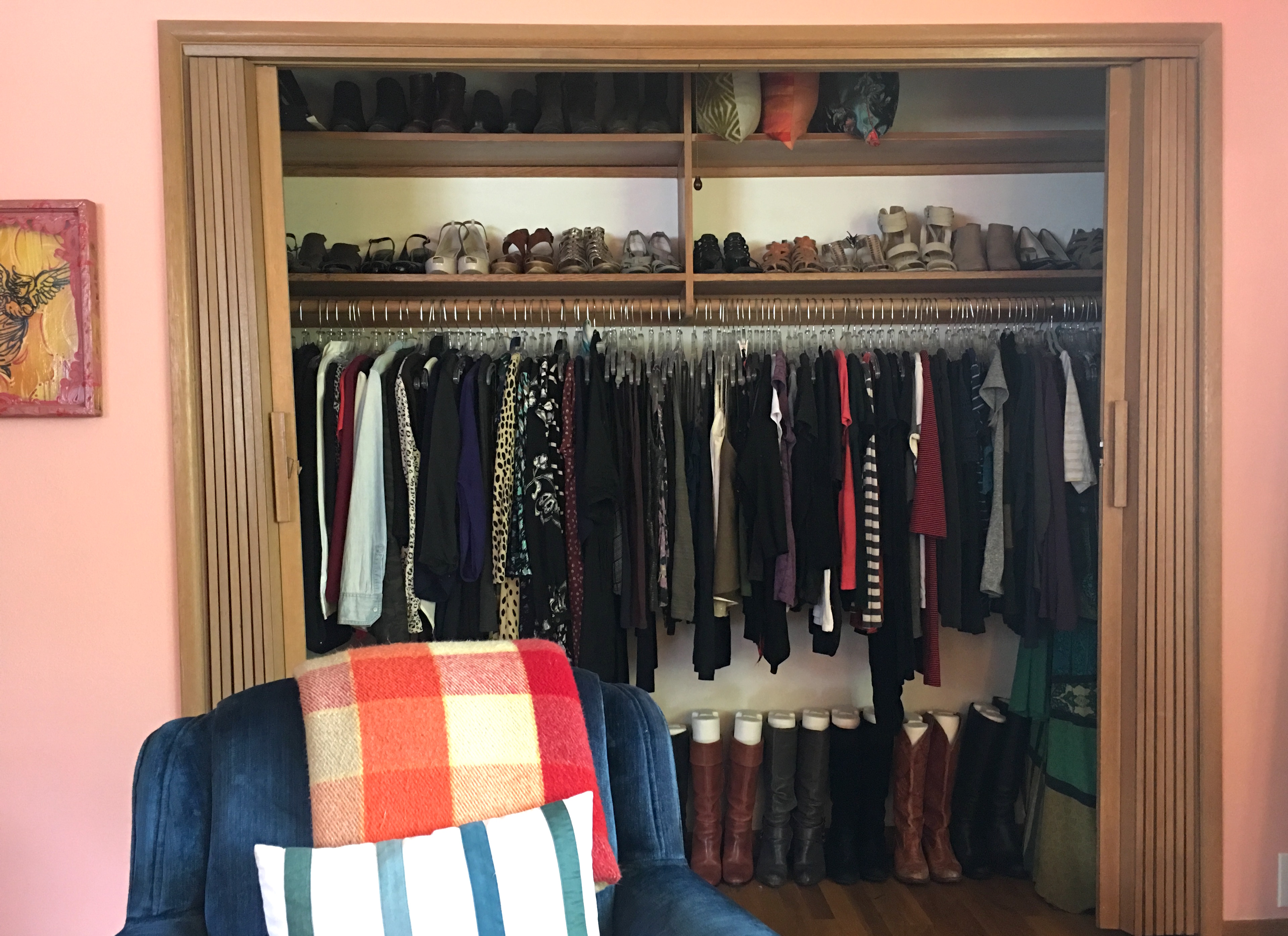 You do not have to shut your closet doors! Clothing and shoes are beautiful. It helps keep you organized too because you don't just close the door on your mess. (Matching hangers is a must.) I buy in bulk from onlyhangers.com. If you're wondering if that's my only closet. Busted. It's not. Behind photo #1 is another closet that is admittedly a tad messier.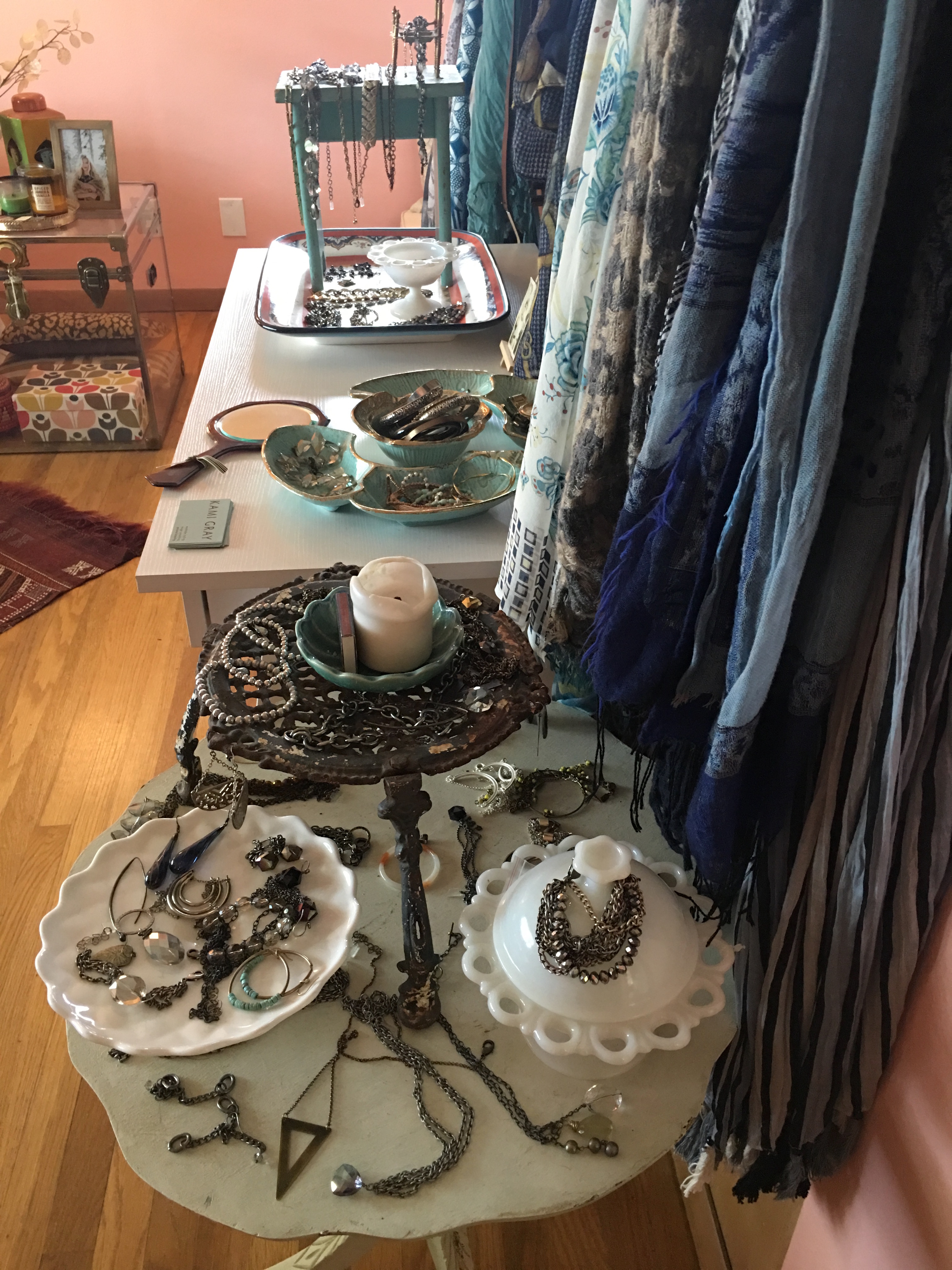 This worn vintage table could have been cleaned-up, but I like a messy-pretty, nonfussy look. I used some fun milk glass serving items for jewelry display. Notice that I don't use anything that was actually meant for displaying jewelry. You can get pretty creative and find things you have around the house.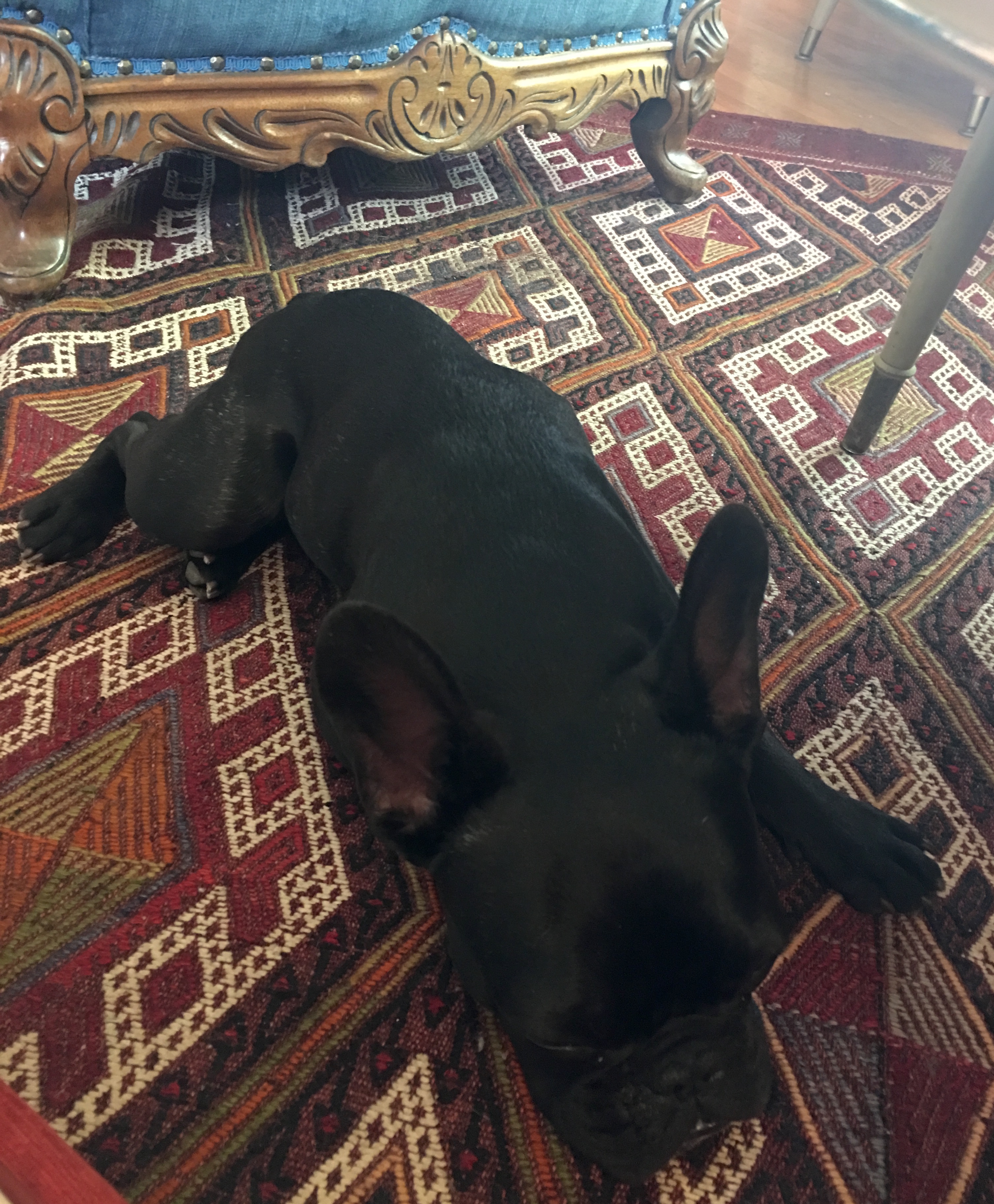 This is George, my youngest Frenchie. Underneath him is a rug that I "borrowed" from my brother abut ten years ago. I'm keeping it safe for him, but secretly hoping that he's forgotten all about it. West Elm and Etsy are my favorite sources for rugs.
If you have any questions on how to create your own dressing, feel free to get in touch! Or if you live in the greater Portland area and want me to create one for you, I'm available for hire!